Welcome to the Tri-Valley Stargazers Astronomy Club's web site. There is a lot of information here on the many activities of the Tri-Valley Stargazers (TVS). Learn why you should join the club to get the most out of your amateur astronomy hobby in the east San Francisco Bay Area.


The Latest News & Upcoming Events
February's meeting
Lawrence Livermore National Laboratory built the gamma-ray spectrometer that flew on NASA's MESSENGER spacecraft to the planet Mercury. We are presently building two new gamma-ray instruments to visit an exotic metal asteroid called 16-Psyche, and to visit the moons of Mars (Phobos and Deimos). Gamma-rays represent the highest-energy region of the electromagnetic spectrum. They are scientifically useful because they help reveal the elemental composition of these planetary bodies, which in turn helps us understand their formation and evolution. This talk will focus on the technical challenges of building an instrument for deep space exploration, as well as the interesting science revealed by gamma-ray spectroscopy at Mercury, 16-Psyche, and Phobos/Deimos.
Dr. Morgan Burks is a physicist specializing in instrumentation for high-resolution gamma-ray spectroscopy and gamma-ray imaging. He has worked at Lawrence Livermore National Laboratory since 2002, and at Berkeley lab before that. During this time he helped develop the first hand-held gamma-ray spectrometer based on germanium crystals, as well as the first instrument that could take 360 degree gamma-ray images. Morgan helped build the gamma-ray spectrometer that flew on NASA's MESSENGER mission to Mercury. That instrument took the first ever gamma-ray data of the planet and the results have overturned our understanding of how Mercury formed. Morgan is currently the principal investigator responsible for building instruments for a NASA mission to 16-Psyche and another to the Moons of Mars.
Dispose of your eclipse glasses!
Don't toss those eclipse glasses! Astronomers Without Borders has a
Eclipse Glasses Donation Program
to reuse eclipse glasses. TVS is registered as an eclipse glasses donation site, the only one in the Tri-Valley. Bring your lightly used solar eclipse glasses to our general meeting, or mail them to our PO Box, P.O. Box 2476, Livermore, CA 94551 We will forward them to the AWB sponsor, Eclipse Scientific. They will be put to better use than gathering dust in your attic!
Upcoming star parties
The following star parties have been scheduled:
Wednesday 02/21/18, Outreach party at Dougherty Elementary School in Dublin; setup 5:30
Wednesday 02/28/18, Outreach party at Altamont Elementary School in Mountain House; setup 5:30
Thursday 03/01/18, Outreach party a Junction Avenue School; setup 4:30
Wednesday 03/07/18, Outreach party at Marylin Avenue Elementary School in Livermore; setup 6:00
Wednesday 03/23/18, Outreach party at Valley Christian Elementary School; setup 7:15
Wednesday 04/11/18, Outreach party at Montevideo Elementary School in San Ramon; setup at 7:45
Wednesday 04/18/18, Outreach party at Leo Croce Elementary in Livermore; setup 7:45
Saturday 04/21/18, Outreach party at Del Valle Arroyo Staging Area; 8:15
The H2O Open Houses are generally open to all club members and the public. The Tesla Winery club parties are generally open to club members and their guests. Please contact for further information.
TVS Crystal Wine Glasses For Sale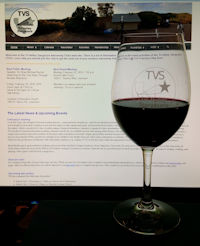 TVS is offering elegant crystal wine glasses for sale to club members. You don't have to drink wine to enjoy the beautiful TVS logo-etched stemware. Use them for your favorite beverage, or they can be used as a beautiful container for small plants. They are the perfect gifts for loved ones or friends. Look for them at club meetings, where they will be sold for $10/each. Don't drink alone, buy two! Support TVS. Thanks to who got these wonderful glasses.
TVS Logo Wear
You may have seen some TVS members wearing shirts and jackets embroidered with the TVS logo. If you are interested in obtaining an embroidered logo item, you can do so by ordering whatever you would like through
Land's End's Corporate Sales
section and specifying TVS logo #0118948. You will need to set up an account, which will ask for the logo number and the TVS customer number (3452021).
TVS has also set up shop at
Cafepress
for members to buy non-embroidered TVS logo wear. You can have the TVS logo put on t-shirts, mugs, buttons, hats, coasters, etc. You buy through Cafepress, and Cafepress sends TVS a portion of the proceeds. Visit the web site to see all the TVS logo possibilities.