Welcome to the Tri-Valley Stargazers Astronomy Club's web site. There is a lot of information here on the many activities of the Tri-Valley Stargazers (TVS). Learn why you should join the club to get the most out of your amateur astronomy hobby in the east San Francisco Bay Area.


The Latest News & Upcoming Events
October's meeting
This meeting will feature a talk by Chris Kitting about the Hayabusa Spacecraft Reentry over Australia. After a very successful airborne campaign for analyzing a large spacecraft reentry in 2008, long-time Tri-Valley member Chris Kitting was selected to lead a 2010 NASA ground team to analyze the fastest spacecraft reentry yet, of the Japanese asteroid return spacecraft and capsule, Hayabusa. Their logistics had formidable challenges, but they were rewarded with annual "Group Achievement Awards" from NASA/Ames and NASA.
Professor Christopher L. Kitting earned his Biol. Sci. B.S. at University of California, Irvine, then Ph.D. as a Stanford University Graduate Fellow. Kitting joined the Cal State University East Bay (Hayward) Biological Sciences Faculty in 1985. Kitting has received over 24 major honors since the Ph.D., including team leader in a Hydrolab underwater lab display in the Smithsonian, D.C., nominations for Outstanding Professor Awards, and 2010 NASA-Ames Group Achievement Awards for his recent, second NASA atmospheric mission, as team leader.
Dispose of your eclipse glasses!
Don't toss those eclipse glasses! Astronomers Without Borders has a
Eclipse Glasses Donation Program
to reuse eclipse glasses. TVS is registered as an eclipse glasses donation site, the only one in the Tri-Valley. Bring your lightly used solar eclipse glasses to our general meeting, or mail them to our PO Box, P.O. Box 2476, Livermore, CA 94551 We will forward them to the AWB sponsor, Eclipse Scientific. They will be put to better use than gathering dust in your attic!
Upcoming star parties
The following star parties have been scheduled:
Saaturday 10/07/17, Outreaach Solar observing party at Livermore Airport (10:00 to 4:00)
Saturday 10/21/17, Club party at Tesla Winery
Wednesday 11/08/17, Outreach party at Banta Elementary School near Tracy
The H2O Open Houses are generally open to all club members and the public. The Tesla Winery club parties are generally open to club members and their guests. Start and end times for the parties will be announced later, but we usually plan to arrive at the observing site about 30 minutes before sunset and wrap up around midnight Please contact for further information.
TVS Crystal Wine Glasses For Sale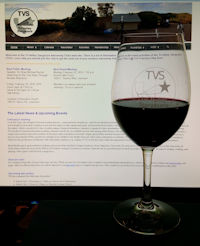 TVS is offering elegant crystal wine glasses for sale to club members. You don't have to drink wine to enjoy the beautiful TVS logo-etched stemware. Use them for your favorite beverage, or they can be used as a beautiful container for small plants. They are the perfect gifts for loved ones or friends. Look for them at club meetings, where they will be sold for $10/each. Don't drink alone, buy two! Support TVS. Thanks to who got these wonderful glasses.
TVS Logo Wear
You may have seen some TVS members wearing shirts and jackets embroidered with the TVS logo. If you are interested in obtaining an embroidered logo item, you can do so by ordering whatever you would like through
Land's End's Corporate Sales
section and specifying TVS logo #0118948. You will need to set up an account, which will ask for the logo number and the TVS customer number (3452021).
TVS has also set up shop at
Cafepress
for members to buy non-embroidered TVS logo wear. You can have the TVS logo put on t-shirts, mugs, buttons, hats, coasters, etc. You buy through Cafepress, and Cafepress sends TVS a portion of the proceeds. Visit the web site to see all the TVS logo possibilities.