Welcome to the Tri-Valley Stargazers Astronomy Club's web site. There is a lot of information here on the many activities of the Tri-Valley Stargazers (TVS). Learn why you should join the club to get the most out of your amateur astronomy hobby in the east San Francisco Bay Area.


The Latest News & Upcoming Events
April's meeting
NASA's New Horizons spacecraft has revealed that Pluto and Charon exhibit strikingly different surface appearances, despite their similar densities and presumed bulk compositions. After an introductory background and a discussion about the New Horizons spacecraft, this talk will present an overview of our main findings centering on the fascinating geology of Pluto. Much of Pluto's surface can be attributed to surface-atmosphere interactions and the mobilization of volatile ices like N2 and CH4 by insolation. Many valley systems appear to be the consequence of glaciation involving N2 ice. Other observed signs of geological activity requires or required internal heating - for example, the solid-state convection and advection of volatile ices in Sputnik Planitia can be powered by present-day radiogenic heat loss. On the other hand, the prominent mountains at the western margin of Sputnik Planitia, and the strange, multi-km-high mound features to the south, probably composed of H2O, are young geologically as inferred by light cratering and superposition relationships. Their origin, and what drove their formation so late in Solar System history, is under investigation. The dynamic remolding of landscapes by volatile transport seen on Pluto is not unambiguously evident on Charon. Charon does, however, display a large resurfaced plain and globally engirdling extensional tectonic network attesting to its early endogenic vigor.
Dr. Orkan Umurhan is a mathematical physicist whose research focuses on evolutionary processes both on planetary surfaces of the outer solar system as well as the question of how planets form in protoplanetary disks. He has published on a number of topics including astrophysical flows and turbulence, fundamentals of shear flow instabilities, geomorphology and landform evolution and its modeling. Dr. Umurhan joined the New Horizons Geology and Geophysics Investigation Team in June of 2013. His main role on this mission has been in providing mathematical modeling framework for the various geophysical scenarios of interest and appropriate to the Pluto system. Dr. Umurhan occasionally writes blogposts for NASA about New Horizons and he is also a co-author on a graduate level textbook on fluid dynamics for physicists.
H2O Open House
Our next open house is scheduled for Saturday, May 5th at the club's dark sky site,
Hidden Hill Observatory
, aka H2O.
Anyone can come to our open houses, not just club members; but you cannot go there without an escort. We will meet at the corner of Mines and Tesla Roads at 6:30 PM, then caravan to the site on a drive that takes about 50 minutes. The admission is $3/car; please bring the exact amount. There is no gas on the way, so be sure to gas up before leaving. The site is essentially in the wilderness, so there is no electricity and water, and there are only a couple of pit toilets. Cell-phone reception is iffy at best. While there is a picnic table there, you really should bring your own chair. If you need to see what you are doing, bring a red LED flashlight, not a white-light flashlight. And use masking tape over your car door and interior lights, or pull the fuse. If you don't have a scope, you can always find someone who is willing to let you look through theirs. And don't forget to bring your binoculars. Expect to stay until about midnight and get back to Livermore at around 1:00 AM.
Upcoming star parties
The following star parties have been scheduled:
Wednesday 04/18/18, Outreach party at Leo Croce Elementary in Livermore; 7:45
Saturday 04/21/18, Outreach party at Del Valle Arroyo staging area; 8:15
Saturday 05/05/18, H2O Open House; 6:30 at corner of Mines and Tesla
The H2O Open Houses are generally open to all club members and the public. The Tesla Winery club parties are generally open to club members and their guests. Please contact for further information.
TVS Crystal Wine Glasses For Sale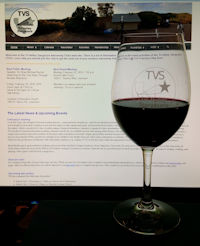 TVS is offering elegant crystal wine glasses for sale to club members. You don't have to drink wine to enjoy the beautiful TVS logo-etched stemware. Use them for your favorite beverage, or they can be used as a beautiful container for small plants. They are the perfect gifts for loved ones or friends. Look for them at club meetings, where they will be sold for $10/each. Don't drink alone, buy two! Support TVS. Thanks to who got these wonderful glasses.
TVS Logo Wear
You may have seen some TVS members wearing shirts and jackets embroidered with the TVS logo. If you are interested in obtaining an embroidered logo item, you can do so by ordering whatever you would like through
Land's End's Corporate Sales
section and specifying TVS logo #0118948. You will need to set up an account, which will ask for the logo number and the TVS customer number (3452021).
TVS has also set up shop at
Cafepress
for members to buy non-embroidered TVS logo wear. You can have the TVS logo put on t-shirts, mugs, buttons, hats, coasters, etc. You buy through Cafepress, and Cafepress sends TVS a portion of the proceeds. Visit the web site to see all the TVS logo possibilities.