Welcome to the Tri-Valley Stargazers Astronomy Club's web site. There is a lot of information here on the many activities of the Tri-Valley Stargazers (TVS). Learn why you should join the club to get the most out of your amateur astronomy hobby in the east San Francisco Bay Area.





H2O Lock Combination has Changed!
It's that time of year when we change the combination for the lock at H2O. Chuck has now done this. If you have paid the H2O Access Fee, you will receive email with the new combination. If you don't receive the email, contact Roland.
Next Public Meeting

Speaker:Orkan Umurhan
Friday, April 20, 2018
Doors open at 7:00 p.m.
Show & Tell starts at 7:30 pm
Talk follows

Unitarian Universalist Church
1893 N. Vasco Rd., Livermore



Next Board Meeting

Monday, April 23, 2018, 7:30 p.m.
The Switch (NOTE new location!)
1911 2nd St, Livermore

Members are always welcome at board meetings.

The Latest News & Upcoming Events
April's meeting
Please watch this space for information about the speaker and his topic for the April meeting.
Upcoming star parties
The following star parties have been scheduled:
Wednesday 03/23/18, Outreach party at Valley Christian Elementary School; setup 7:15
Wednesday 03/24/18, Outreach party at Rancho Los Mochos; setup 7:00
Wednesday 04/11/18, Outreach party at Montevideo Elementary School in San Ramon; 7:45
Wednesday 04/18/18, Outreach party at Leo Croce Elementary in Livermore; 7:45
Saturday 04/21/18, Outreach party at Del Valle Arroyo staging area; 8:15
Saturday 05/05/18, H2O Open House; 8:30
Saturday 06/16/18, TVS club party at Tesla Winery; 8:00
Monday 06/25/18, Outreach party at the Taylor Family Foundation Camp; 8:00
Saturday 07/21/18, Outreach party at Del Valle Arroyo staging area; 8:15
Sunday 08/12/18, Outreach Party (Perseids) at Del Valle ridge near park entrance; 8:15
Saturday 09/15/18, Outreach party at Del Valle Arroyo Staging Area; 8:15
Saturday 10/13/18, TVS club party at Tesla Winery; 6:00
Thursday 10/18/18, Livermore Library Outreach; 6:30
Saturday 11/10/18, Outreach party at Del Valle Arroyo staging area; 8:15
The H2O Open Houses are generally open to all club members and the public. The Tesla Winery club parties are generally open to club members and their guests. Please contact for further information.
TVS Crystal Wine Glasses For Sale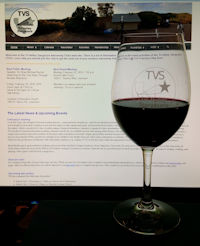 TVS is offering elegant crystal wine glasses for sale to club members. You don't have to drink wine to enjoy the beautiful TVS logo-etched stemware. Use them for your favorite beverage, or they can be used as a beautiful container for small plants. They are the perfect gifts for loved ones or friends. Look for them at club meetings, where they will be sold for $10/each. Don't drink alone, buy two! Support TVS. Thanks to who got these wonderful glasses.
TVS Logo Wear
You may have seen some TVS members wearing shirts and jackets embroidered with the TVS logo. If you are interested in obtaining an embroidered logo item, you can do so by ordering whatever you would like through
Land's End's Corporate Sales
section and specifying TVS logo #0118948. You will need to set up an account, which will ask for the logo number and the TVS customer number (3452021).
TVS has also set up shop at
Cafepress
for members to buy non-embroidered TVS logo wear. You can have the TVS logo put on t-shirts, mugs, buttons, hats, coasters, etc. You buy through Cafepress, and Cafepress sends TVS a portion of the proceeds. Visit the web site to see all the TVS logo possibilities.