Welcome to the Tri-Valley Stargazers Astronomy Club's web site. There is a lot of information here on the many activities of the Tri-Valley Stargazers (TVS). Learn why you should join the club to get the most out of your amateur astronomy hobby in the east San Francisco Bay Area.


The Latest News & Upcoming Events
July's meeting
If we ever hope to become a true spacefaring society, we must wean ourselves away from chemical rockets. This premise will be proven through an examination of Tsiolkovsky's Rocket Equation where it will become apparent that adding fuel achieves diminishing returns, but increasing exhaust gas velocity offers rapid transits to Mars, the outer planets, and eventually the nearby stars. There is an upper limit to the exhaust gas velocity of chemical rockets. To improve on this we must revisit nuclear thermal rockets, and eventually, fusion rockets, and finally antimatter rockets. Each of these technologies is feasible although considerable engineering and infrastructure development remains to be done. This technological evolution will be presented in Fulsang's series of hard SciFi novels in the Galactican Series. This lecture will be delivered at the high school physics level.
Ejner Fulsang has been a tech writer for NASA and SETI for the last ten years. His specialty is helping scientists write proposals for space missions. It's been quite an education. Covering topics like spacecraft, instruments, mission design, launch vehicles, hazards of space. He is particularly intrigued by the possibility of life on other planets and moons, especially the notion of a Second Genesis where life comes from chemical, not biological origins.
Upcoming star parties
The following star parties hsvr been scheduled:
Saturday 07/22/17, Club party at Tesla Winery
Saturday 08/12/17, Outreach party for Cub Scouts at Rancho Los Mochos
Friday 08/25/17 thru Sunday 08/27/17, Yosemite/Glacier Point
Saturday 09/23/17, Club party at Tesla Winery
Thursday 09/28/17, Outreach party at Livermore Library
Friday 09/29/17, Outreach party RADD at Pleasanton Senior Center
Saturday 10/21/17, Club party at Tesla Winery
Wednesday 11/08/17, Outreach party at Banta Elementary School near Tracy
The H2O Open Houses are generally open to all club members and the public. The Tesla Winery club parties are generally open to club members and their guests. Start and end times for the parties will be announced later, but we usually plan to arrive at the observing site about 30 minutes before sunset and wrap up around midnight Please contact for further information.
Tesla Star Party
July's Club Star Party will be at Tesla Vintners, Saturday, July 22nd at 8 p.m. until midnight.
The star party is open to all current club members and their guests. Our theme is "Summer Highlights". Join us to see some of the best objects to view through small telescopes on summer evenings:
emission nebula: M8 (the Lagoon) and M17 (the Swan).
planetary nebula: M27 (the Dumbbell) and M57 (the Ring)
open star clusters: M7 (Ptolomy's) and M11 (the Wild Duck).
globular clusters: M13 and M4.
galaxies: M51 (the Whirlpool).
multiple stars: Albireo and epsilon Lyrae.
asterisms: the Coathanger.
For those who wish to participate we will compare views of the same objects through each other's telescopes and see how aperture, magnification, optics type and quality, and filters affect the view. Starting at about 10:00 p.m., we'll point our telescopes at the first object in the list, share views through our various instruments and compare them, then move on to the next object on the list. It's a great opportunity for beginners to locate the objects, and advanced observers may find the various views _ illuminating _ Of course, if you are not interested in the theme, you are not restricted to following it and can observe anything you want.
Please bring a telescope if you have one.
TVS Crystal Wine Glasses For Sale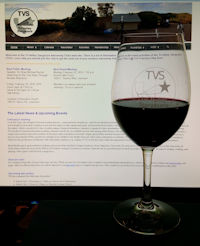 TVS is offering elegant crystal wine glasses for sale to club members. You don't have to drink wine to enjoy the beautiful TVS logo-etched stemware. Use them for your favorite beverage, or they can be used as a beautiful container for small plants. They are the perfect gifts for loved ones or friends. Look for them at club meetings, where they will be sold for $10/each. Don't drink alone, buy two! Support TVS. Thanks to who got these wonderful glasses.
TVS Logo Wear
You may have seen some TVS members wearing shirts and jackets embroidered with the TVS logo. If you are interested in obtaining an embroidered logo item, you can do so by ordering whatever you would like through
Land's End's Corporate Sales
section and specifying TVS logo #0118948. You will need to set up an account, which will ask for the logo number and the TVS customer number (3452021).
TVS has also set up shop at
Cafepress
for members to buy non-embroidered TVS logo wear. You can have the TVS logo put on t-shirts, mugs, buttons, hats, coasters, etc. You buy through Cafepress, and Cafepress sends TVS a portion of the proceeds. Visit the web site to see all the TVS logo possibilities.