Welcome to the Tri-Valley Stargazers Astronomy Club's web site. There is a lot of information here on the many activities of the Tri-Valley Stargazers (TVS). Learn why you should join the club to get the most out of your amateur astronomy hobby in the east San Francisco Bay Area.


The Latest News & Upcoming Events
January's meeting
Is your observing experience getting stale? Do you find yourself looking at the same objects each year? Have you completed the Messier list and wonder what's the next step?
Refocus by working on advanced observing projects. Steve will discuss how to jump-start your observing by delving into Hickson Compact Groups, Local Group Dwarf Galaxies, Palomar Globulars, Abell Planetaries, Vorontsov-Velyaminov Interacting Galaxies, Extragalactic Globulars, Karachentsev Galaxy Triplets and more. He will discuss his observations using several telescopes up to 48-inch aperture.
Steve was a regular observer at the H20 site throughout the '80's and '90's. He recently completed a 35-year project to observe the entire NGC (roughly 7500 objects), a project that involved several trips to the southern hemisphere. His observations resulted in numerous historical corrections of the NGC as a member of the NGC/IC Project. His favorite deep sky objects are featured in Orion's "Deep Map 600" atlas and his website
Adventures in Deep Space
is a popular source of observing challenges for advanced amateurs.
Steve is a regular contributing editor for Sky & Telescope magazine and has written numerous observing articles for the column "Going Deep", which is the basis for this talk.
Meet our new board!
As a result of the election at the November club meeting, our new board comprises Rich Combs (President), Eric Dueltgen (Vice President), Roland Albers (Treasurer), and Ron Kane (Secretary). In addition we welcome Dave Feindel as an "at large" member, and Jim Theberge, who has volunteered to do Publicity.
Dispose of your eclipse glasses!
Don't toss those eclipse glasses! Astronomers Without Borders has a
Eclipse Glasses Donation Program
to reuse eclipse glasses. TVS is registered as an eclipse glasses donation site, the only one in the Tri-Valley. Bring your lightly used solar eclipse glasses to our general meeting, or mail them to our PO Box, P.O. Box 2476, Livermore, CA 94551 We will forward them to the AWB sponsor, Eclipse Scientific. They will be put to better use than gathering dust in your attic!
Upcoming star parties
The following star parties have been scheduled:
Wednesday 01/03/18, Outreach party at Villalovoz School, Tracy; setup 5:30
Wednesday 01/10/18, Outreach party at Gladys Poet-Christian School, Tracy; setup 6:00
Wednesday 01/31/18, Outreach party at St. Bernardís School, Tracy; setup 6:00
Wednesday 02/28/18, Outreach party at Altamont Elementary School in Mountain House; setup 5:30
Wednesday 03/07/18, Outreach party at Marylin Avenue Elementary School in Livermore; setup 6:00
Wednesday 03/23/18, Outreach party at Valley Christian Elementary School; setup 7:15
Wednesday 04/18/18, Outreach party at Leo Croce Elementary in Livermore; setup 7:45
Saturday 04/21/18, Outreach party at Del Valle Arroyo Staging Area; 8:15
The H2O Open Houses are generally open to all club members and the public. The Tesla Winery club parties are generally open to club members and their guests. Please contact for further information.
TVS Crystal Wine Glasses For Sale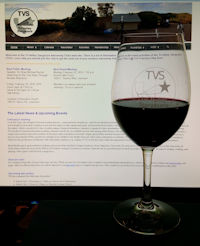 TVS is offering elegant crystal wine glasses for sale to club members. You don't have to drink wine to enjoy the beautiful TVS logo-etched stemware. Use them for your favorite beverage, or they can be used as a beautiful container for small plants. They are the perfect gifts for loved ones or friends. Look for them at club meetings, where they will be sold for $10/each. Don't drink alone, buy two! Support TVS. Thanks to who got these wonderful glasses.
TVS Logo Wear
You may have seen some TVS members wearing shirts and jackets embroidered with the TVS logo. If you are interested in obtaining an embroidered logo item, you can do so by ordering whatever you would like through
Land's End's Corporate Sales
section and specifying TVS logo #0118948. You will need to set up an account, which will ask for the logo number and the TVS customer number (3452021).
TVS has also set up shop at
Cafepress
for members to buy non-embroidered TVS logo wear. You can have the TVS logo put on t-shirts, mugs, buttons, hats, coasters, etc. You buy through Cafepress, and Cafepress sends TVS a portion of the proceeds. Visit the web site to see all the TVS logo possibilities.